CFRP
CFRP (carbon fiber reinforced polymer) tooling offers excellent value for larger volume production runs where hand lay-up production methods are used.
The low thermal expansion of a CFRP tool is perfect for applications where highly accurate, repeatable component geometry is required and the lightweight nature of CFRP makes it an excellent material choice for molding larger composite components.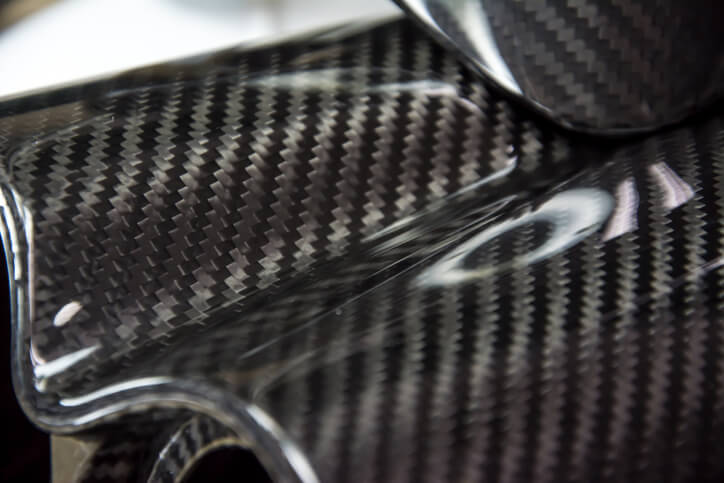 Material
CFRP molds are a good balance between cost and re-usability. For larger components CFRP molds are typically cheaper than an aluminium mold and are capable of producing a higher quantity of final components than tooling board molds.
When curing at elevated temperatures, a CFRP tool has much lower expansion due to its very low CTE (coefficient of thermal expansion) than an aluminium mold, leading to higher geometric consistency between the final parts and the original CAD, even with multiple uses.
We laminate to a 5.2mm standard thickness but we can produce thicker. Thicker molds increase the durability of the tool.
CFRP molds provide a superior surface finish, are lightweight and are great for complex geometries. Our supplier network contains autoclaves that can cure CFRP molds up to a size of 10m x 3m.
Additionally, we offer GRP (Glass Reinforced Polymer) molds which offer a slight cost saving over CFRP and are better suited for production runs where an ambient cure temperature is used, such as resin infusion or wet-lay.
Application
A CFRP mold is suitable for manufacturing composite components using these processes:
Pre-preg

Resin infusion

Wet lay
Manufacture
CFRP molds are made by creating a pattern (reproduction) of the component using another material - typically epoxy tooling board.
The mold is formed by laminating pre-preg carbon fiber onto the pattern and curing the resin.
Plyable takes your component CAD model and tools are designed.

Epoxy tooling board patterns are manufactured to the correct geometry on a 5-axis CNC mill.

The pre-preg composite material is laminated by hand in layers on the pattern until the desired thickness/strength of mold is achieved.

The laminate stack in cured under pressure in an autoclave. The assembled mold is then cured a second time to harden to the required service temperature (Tg).

Molds are trimmed and polished to a high-gloss finish.

Inspected for quality and shipped.