04 October 2022 | news
Plyable secures $3.2M investment to deliver their lightweight custom composite marketplace on a global scale
---
Plyable, award-winning, market-leading composite mold producer has now received a total of $4.25M investment to fund the growth of its time and significant cost-saving composite tooling solution.
The demand for composites is growing exponentially, with the incredible, rapid innovation seen in aerospace, electric vehicle and marine industries. Award winning, market-leading disruptor in composite tooling, Plyable's impressive customer base spans all these sectors. This latest injection of investment will fund the growth of its time and cost-saving composite tooling solution, benefiting innovators, engineers and industry disruptors across the board.
"The world of composites today is a vast green field and a highly fragmented $100bn artisan market - one that's been overlooked, until now. We're delighted that [Maven, Solvay and Forward Partners/our investment partners] share our vision and are supporting Plyable to continue to innovate and modernise the composites industry."

- Martin Oughton, CEO and Founder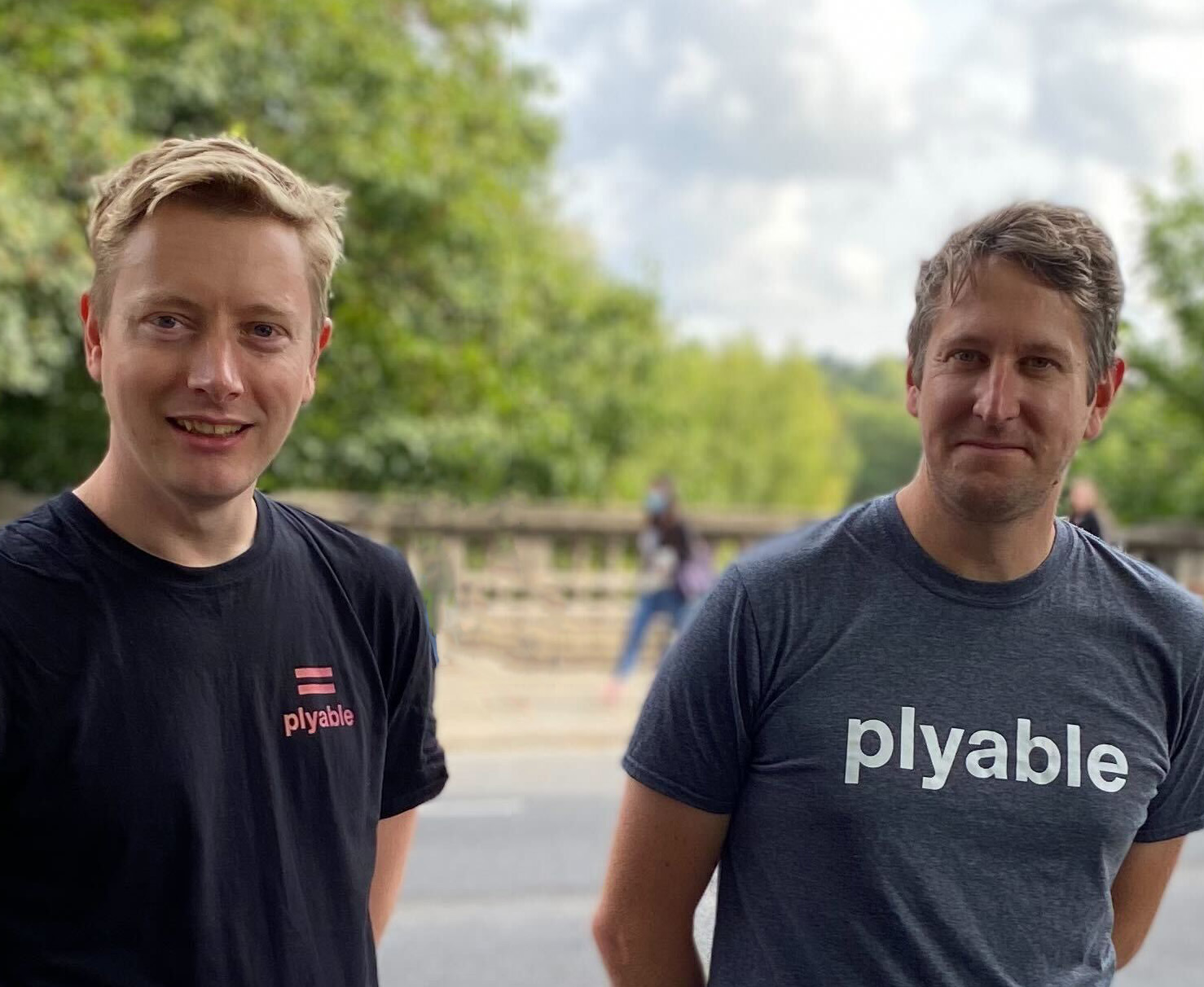 Adam Lofts, CTO/Founder and Martin Oughton, CEO/Founder
Plyable customer GKN Aerospace currently received their molds 44% faster than the traditional supply chain - and at a 20% cheaper cost than their traditional suppliers offered.
The funding will enable the Plyable team to build on this remarkable time/cost saving technology/process, accelerate the company's growth as the leading market disruptor in composite tooling and achieve its mission to become a 'one-stop-shop' for composite projects.
With Plyable's 'one-stop-shop' model in place, the user will be able to upload entire assemblies - part, mold, jigs and off the shelf items - and Plyable will not only provide an instant quote and lead time, but also AI driven 'design for manufacture' feedback, including suggestions and digital simulations. For the customer this will instantly validate design decisions, simultaneously cost and specify the project production time, and take care of the end-to-end procurement process.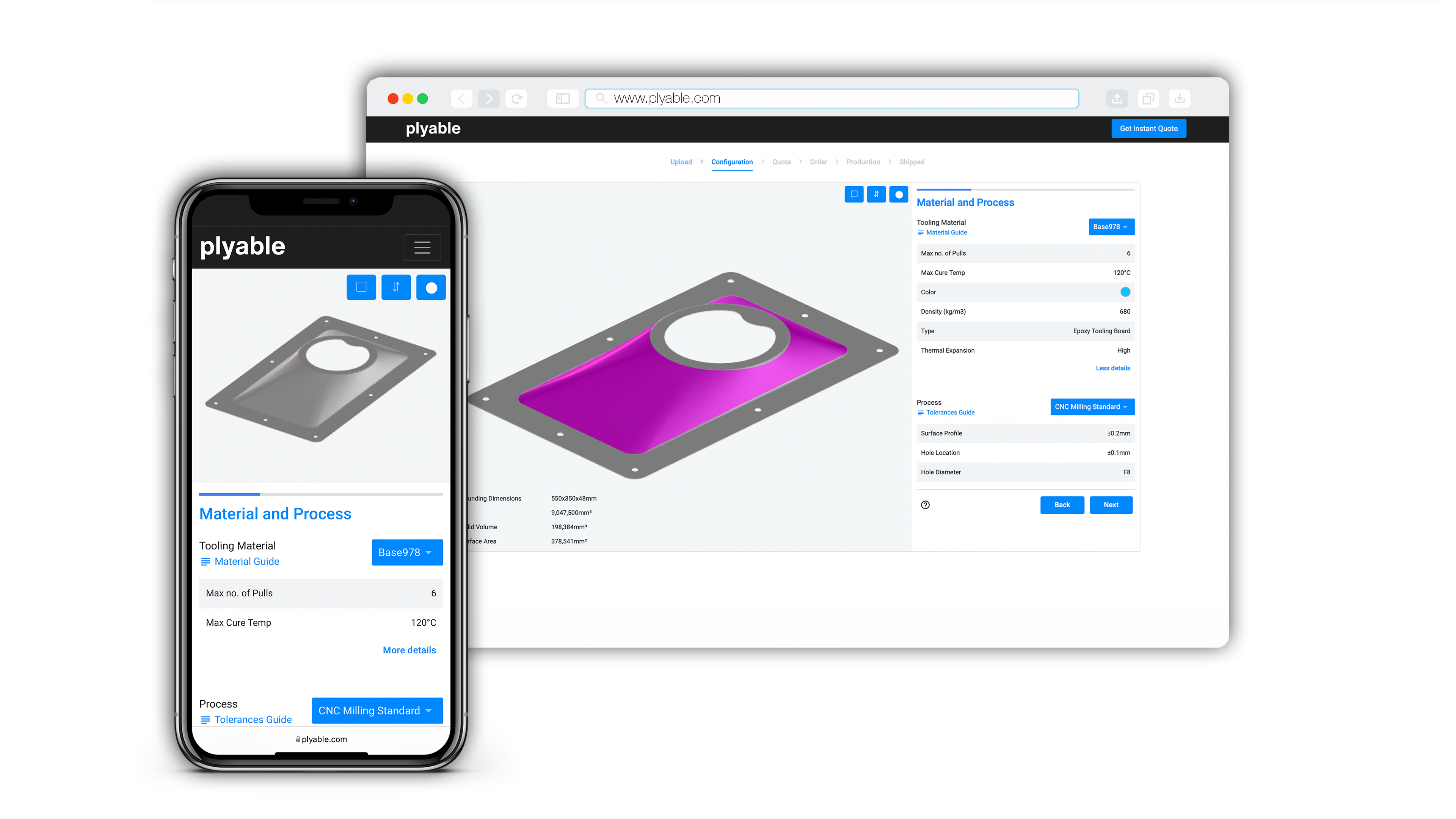 Led by Maven Capital Partners, the latest $3.2M investment was supported by composite industry leaders Solvay and leading early-stage VC Forward Partners returning for this round, bringing Plyable's total equity funding to date to $4.25M.
"The innovative, forward-thinking team behind Plyable are a key reason behind us investing. Martin Oughton honed his engineering skills working across a number of roles for teams in Formula 1, Americas Cup and for aerospace companies. Adam Lofts is an experienced start-up CTO who has created an incredible tool, not short on deep complexity behind the scenes, on a shoestring. That mix of experience, complementary skills, risk appetite and tenacity are some of the things that get investors excited too."

- Alexander Sleigh, Investment Director at Maven
Plyable was selected to be part of Boeing's Accelerator Programme in 2020:
"We are delighted to see Plyable go from strength to strength since being part of the Boeing Accelerator Programme in 2020. They understand the importance of delivering quality products and service in an increasingly challenging marketplace. Plyable harnesses technology to differentiate and propel the business forward. We are excited to see how this investment will drive the next phase of their journey and will continue to support them!"

- Nichola Bates, Head of Global Accelerators and Innovation Programs at Boeing
Plyable and its technology enables engineers to drop a CAD file for a composite mould or component into their web-app, to receive instant, AI-generated recommendations for optimum mould design - before arranging production, inspection and delivery. As the company rapidly expands in the AI sphere, the funding will also put 'boots on the ground' at Plyable's recent incorporations in North America and Europe.
/- ENDS -
Note to Editors
Press Enquiries Please contact Charlotte Broadribb: press@plyable.com
About Plyable
Founded in 2019 by Martin Oughton & Adam Lofts, Plyable has developed proprietary software that uses the latest AI and machine learning technology to automate the quoting, design and manufacture of composite tooling. Its innovative platform helps clients create prototypes that are at least 20% cheaper whilst significantly reducing product lead times compared to standard methods.
The software works by taking a customer's CAD file, analysing its mould-ability as well highlighting potential areas for improvement in seconds. Machine learning is then used to build quotes solely based on component geometry. The pricing model is dynamic with shipping calculated using an API in real-time based on user location, dimensions and weight.
Composite moulds are then created through one of the Company's 150+ global verified suppliers who are assigned jobs through the platform's exclusive supply chain technology speeding up the entire procurement process, reducing timelines from months to days.
---